in this section:
About us
The publishing house of Ivan Malkovych A-BA-BA-HA-LA-MA-HA
A-BA-BA-HA-LA-MA-HA
For children ages 2 to 102...
About us
A-BA-BA-HA-LA-MA-HA is Ukraine's finest children's book publisher and one of the most esteemed producers of children's literature in Central and Eastern Europe. The first privately owned children's publishing house to be established in an independent Ukraine.
A-BA-BA-HA-LA-MA-HA was founded by the renowned poet Ivan Malkovych.
The playful name of the house comes from a story by the classic 19th century Ukrainian writer Ivan Franko, who created the beloved character of a schoolboy named Hritz who recited his ABC's by the baby sounds "A-BA-BA-HA-LA-MA-HA".
Indeed, the first title published in July 1992 was the picture book "The Ukrainian Alphabet" and from the very first list millions of children "from the age of 2 to 102" have been enchanted by the exquisitely illustrated books produced by Ukraine's most talented writers, translators, artists, and designers working under the creative vision of Ivan Malkovych.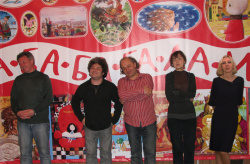 A-BA-BA-HA-LA-MA-HA is also one of the few Eastern European publishers to have successfully entered the global market, selling and buying rights to and from countries around the world — from the UK (Тemplar Publishing) and the U.S. (Alfred A. Knopf) to Australia, Russia and South Korea. The demanding creative and production standards applied to our many prize-winning titles have attracted readers worldwide.
Some testimonials
An internationally acclaimed author Paulo Coelho considered our edition of Hans Christian Andersen's "The Snow Queen", illustrated by the highly lauded graphic artist Vladyslav Yerko, as "perhaps one of the most extraordinary children's books I have ever seen."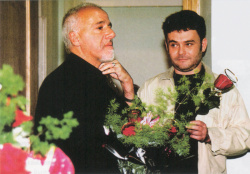 A-BA-BA-HA-LA-MA-HA's Ukrainian-language editions of the last three volumes in the Harry Potter series came out before any other translations in the world in our own distinct covers. Perhaps the nicest compliment we could receive was when author J.K. Rowling chose to display our translated edition of the first volume of her Harry Potter series during a television interview.
The books of A-BA-BA-HA-LA-MA-HA did not leave the prominent French actor Pierre Richard indifferent.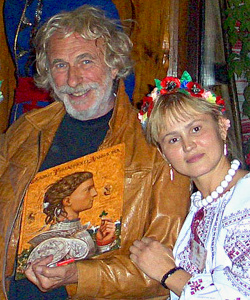 Books of the best Ukrainian publishing house of children`s literature have made the first lady of Ukraine Kateryna Yushchenko (born in the USA) become…a translator. — A Small Bunny in the Big City or HONEY for MOMMY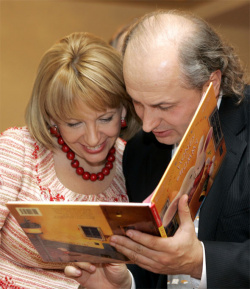 A-BA-BA-HA-LA-MA-HA has stepped out into the world with award-winning titles reflecting the wondrous world of a child's imagination. And what can be more natural and open than the way in which a child sees the world?
How to contact us
A-BA-BA-HA-LA-MA-HA Publishers 1/2 Baseyna Street
Kyiv, Ukraine 01004
www.ababahalamaha.com.ua
E-mail: ivanababa@i.ua
Tel: (+380 44) 234 11 31
Fax: (+380 44) 235 01 05
Mob:(+380 50) 355 04 77