Ivan Malkovych (10.05.1961)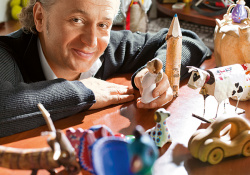 Ivan Malkovych is a Ukrainian poet and publisher.
Born May 10th, 1961 in Bereziv Nyzhniy in Ivano-Frankivsk region.
He graduated from the violin class of the Ivano-Frankivsk Music Academy and from the Faculty of Philology at the Taras Shevchenko State University of Kyiv. Ivan Malkovych has been the member of the Writer's Union of Ukraine since 1986.
He is the author of seven poetry collections: "The White Stone" (1984), "The Key" (1988), "Poems" (1992), "With an Angel on My Shoulder" (1997), "Poems for Winter" (2006), "All is Near" (2010, 2011 – 2-nd complemented edition), "The Plantain" (2013).
Ivan Malkovych is the editor, compiler, author and a translator of dozens of books for children. "He is a man, maniacally devoted to the idea of "the Ukrainian book of especially good quality". (The Book Review, №1, 2002).
Poems of Ivan Malkovych have been translated into English, German, Italian, Russian, Polish, Bengali, Lithuanian, Norwegian, Georgian, Slovak, Slovenian languages.
Published by A-BA-BA-HA-LA-MA-HA in Ukrainian
Published by A-BA-BA-HA-LA-MA-HA in English