"The Ukrainian ABC" is listed in the Guinness Book of Records
Dec 19, 2006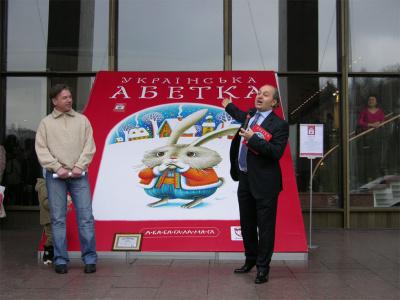 In the premises of "The Ukrainian House", the first Christmas Book Fair opened.
The major attention-drawer is "The Ukrainian ABC" published by A-BA-BA-HA-LA-MA-HA, placed at the entrance to the House. No wonder! As its dimensions are 3x4 meters! This is the biggest printed book in the world. A-BA-BA-HA-LA-MA-HA Publishers printed in at "Sova" design center. The weight of this bookie is nearly 250kg!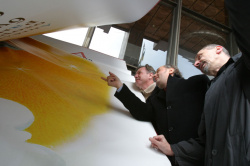 This tremendous "Ukrainian ABC" has already been listed in the Book of Records of Ukraine. The application has been given to the Guinness Book of Records.
It takes four people simultaneously to flip the book. Both children and adults make their best to open the book. But they fail. Then they take a picture near it. After the Christmas Book Fair "The Ukrainian ABC" will be transported to the National Book and Printing museum in the premises of the Kiyv-Pechersk Lavra. There will it stand at the entrance.

"It is impossible to carry it inside any premises, as the smallest side of the book is 3 meters!" the head of A-BA-BA-HA-LA-MA-HA Publishers laughs. "But moisture is not a barrier to the book, because the sheets she is printed from are waterproof."
A couple of days before the book fair in "The Ukrainian House", it was presented for the first time at the Kyiv printing and design exhibition.