Andriy Kokotyukha (13.03.1960)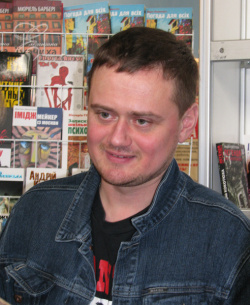 Born November 17th, 1970 in Nizhyn. A writer, a journalist.
The author of the following books: "The Frogs' Mating Games" (1999), "The Return of a Sentimental Gangster" (1999), "A Mother, a Daughter, a Bandit" (2003), "The Crawling Snake" (2005), "Dark Water" (2006), "The Zoo or the Children Under 16", "The Legend of the Headless One" (2007), "The Foreign Skeletons" (2009), "A Prophetess" (2009), "An Adventurous Year", "The Mystery of the Cossack Treasure" (2010). The winner of literary competitions "Golden Bogeyman" and "Coronation of the word."
He lives in Kyiv.
Published by A-BA-BA-HA-LA-MA-HA in Ukrainian: